About Iyàlódè productions
Iyàlódè (e-yah-low-day) Productions founded by Mojisola Sonoiki in 2005, is a Film and Events production Company that is committed to developing, promoting, exhibiting and producing Content and Events about minority and under-represented groups.
Iyàlódè Productions key projects include:
WOCAF -Women of Color Arts and Film Festival, Atlanta, GA, USA – 2005 – 2012.
the only one of its kind in the southeast of the United States to exclusively present, promote and celebrate the artistic talents of women of color filmmakers and artists.
Indigo Tongues An exciting new interview series featuring trailblazers from Africa and the diaspora.
Indigo Tongues is an interview series that brings the inspiring voices of dynamic people from Africa and the diaspora onto one global platform. These trailblazers have been recognized in their respective countries for contributing significantly in the development of their area of expertise.
Indigo Tongues aim is to put a face to these voices, explore their countries with them and get a peek into what it takes to make it happen in the "developing world".
The first segment of Indigo Tongues – Women in Media – features 6 episodes where we meet women in the media industries from Nigeria, Kenya, Jamaica, Sierra Leone and Guadeloupe.
About Mojisola Sonoiki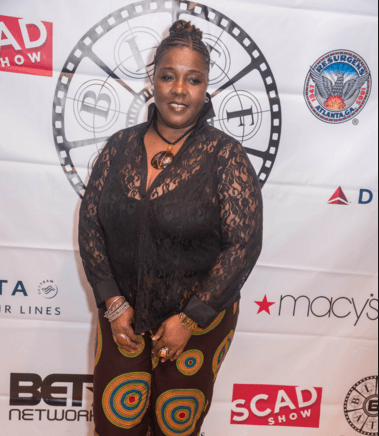 British born Nigerian Mojisola Sonoiki is a miracle worker able to turn ideas into progress. She is a Film festival program curator, Film and Event producer and Writer. Having initially obtained degrees in Computer Science and Intelligent Systems, she later realized her passion for film and pursued an MA in West African Studies at the University of Birmingham in the UK majoring in Ethnography and film.
For the last 16 years, Mojisola has curated, programmed, and consulted on various film festivals and cultural events around the world. In 1999 she curated and coordinated the first of its kind sold out mini film festival of short films by Black women filmmakers from Africa, the Caribbean, the UK, and US called È wá wò (come & see)– Sistahs in Film in London. She spent a short stint at Women Makes Movies in New York City, a leading distributor of women's films and videotapes in North America, where she worked as the Production Assistance Manager.
Following this success, she headed the Out On Film Festival in Atlanta as the First Black Woman in 18 years to head the Festival and completely sold out an event with her screening of shorts called "Black in the Life: African Americans Out on Film"
Ms Sonoiki has continued to shake the film world with her spice and flair and went on to start her own production company.Grasping hard onto her need to help underrepresented groups, she founded the Women of Color Arts & Film (WOCAF) Festival in Atlanta, Georgia. The Festival ran for 7 years (2005 -2012) and incorporated a music showcase as well as a visual arts exhibition as part of its annual festival.The festival received a proclamation from the Atlanta city council recognizing the contributions of the WOCAF Festival in celebrating the contributions of women of color in the arts and film.
Along with these spectacular events and progressive production company, she has found the time for her personal projects. She produced a short documentary "Occupy Naija", an insiders view of the Occupy Nigeria demonstrations of 2012, co-written a made for TV film "Mixed Feelings" which aired on the cable channel Ebony Life TV in Nigeria in 2015 and is currently working on her award-winning docu-interview series "Indigo Tongues" where she showcases trailblazers from Africa and the diaspora. She is leaving her mark in the film industry and continues to follow up her groundbreaking ideas with revolutionary and innovative work. Ms Sonoiki recently received a Certificate in Screenwriting from New York's University School of Professional Studies.
She currently works as Software Testing Manager at a Digital Advertising Agency in Manhattan, NY.

Iyalode Productions Services:
Scriptwriting/Editing
Content production for TV
Film Production
Event Production