Series 2 Episode 2
Indigo Tongues features Joke Silva
Indigo Tongues catches up with Veteran Award-winning Nollywood Actress Joke Silva, in Lagos, Nigeria. Ms Silva gives us an in-depth look into her career, life and views on social issues.
Ms. Silva's  career spans over three decades in the Nigerian entertainment industry. After attending  the Webber Douglas Academy of Dramatic Arts in England, Ms Silva started out her acting career in  Nigeria in the early 80's. One of the most prolific actresses in Nollywood, she acts both in English and her native Yoruba Language. Her international feature film debut, was as Nia Long's mother, alongside Colin Firth, in the film written by Nigerian screenwriter Misan Sagay ,"The Secret Laughter of Women". Ms Silva has been featured in many of Nollywood's award winning films including  Jeta Amata's "Amazing Grace"; "Women's Cot" in which she won "Best Actress in a Leading Role" at the 2006 AMAA (African Movie Academy Awards); Izu Ojukwu's "White Waters" in which she also won Best Actress in a supporting role at AMAA in 2008 and Kunle Afolayan's "Phone Swap", nominated for Best Nigerian Film at the 2012 edition of AMAA.
Ms Silva is the co-founder with her husband of the Lufodo Group, which is a conglomerate of companies that provides training, distribution and production services for the film and entertainment industry in Nigeria. She also acts as the Managing director of the  Nollywood Studio – Malete Film Village – in Kwara State, Nigeria.In 2014 Ms. Silva was honoured as a member of the Order of the Federal Republic of Nigeria. She  serves as a UN Goodwill Ambassador and is  married to the legendary Nollywood actor Olu Jacobs. They have 2 sons and live in Lagos.
About the interview
I met Sisi Joke as I call her, at the Nollywood in Hollywood event in Los Angeles in 2005. (side note…wow that was over 11 years ago. Its not today I started this work oh!!). We hit it off immediately and hung out throughout the whole weekend (in fact, I had no choice. She forced me to hang out with her – I was her handbag, personal photographer, chaperon…you name it, I was it that evening, and anyone that knows Nigerian people knows how that goes….. especially when they are older than you!!!!..LOL) and we stayed in touch ever since.
I actually just remembered why I went for that event. My brother and myself had just started a film distribution company with the view of distributing high quality African films. We had one film from Ghana that was already green lit for distribution. We decided I go and network with the folks in Nollywood and this event posed a great opportunity for that.
In fact the whole Nollywood in Hollywod event, brainchild of Mildred Okwo (that's how I got to meet Mildred too) was like something out of the movie "Coming to America". We stepped out of the limousine; me escorting Nollywood Diva, Genevievie Nnaji, and Ramsey Noah escorting  Sisi Joke, everyone dressed to the T. Paparazzi was having a field day snapping away, onlookers gasping at Genevieve Nnajis' outfit with Ms thing working it (She definitely knows how to work the camera, I must say!!! ). An entourage of African delight had hit the Beverly Hills Hotel… GBAM! Little did they know that in Nigeria, this is the norm when the stars stepped out. I knew then that Nollywood was here to stay and made a decision to be part of the industry in whatever way I could. That year I started the Women of Color Arts and Film Festival in Atlanta… I said to myself…ahhhh Naija no dey carry last oh!!..I must do my own little thing too!!.
Pixs below of the memorable Nollywood in Hollywood event:
I really wanted Sisi Joke featured on Indigo Tongues. I just had to figure out the logistics of how it would happen as we lived in different countries. I really wanted to be present at the interview but unfortunately for me I could not make that happen so my second option was to get to direct this remotely. I got a crew together in Lagos with the help of my brother who also happens to be a filmmaker out there. The plan was on the day of the interview I would Skype in and at the very least listen in on the interview…alas…that is not what happened!. I forgot the Naija Factor!!!!
First of all, the initial scheduled interview was postponed. Sisi joke had just come back from a tour of the U.S and the Netherlands with the play HearWord! and she was unwell. We eventually got a date for the second interview, which was on a rainy day in Lagos. Sisi Jokes' office is on Lagos island…Rain + Lagos Island in the same sentence = disaster!… The interview was about 6am my time, So I was up waiting on a call from my brother and his crew to let me know when they arrived at the location so I could Skype in. I couldn't get hold of my brother and Sisi Joke's people were texting me to ask me where the crew was and I was just going back and forth with them. Eventually, I found out through text messages from my brother that it was raining heavily and the roads to Sisi Jokes office were flooded, the phone reception wasn't great and of course the traffic was horrendous. He then sends me the pix below: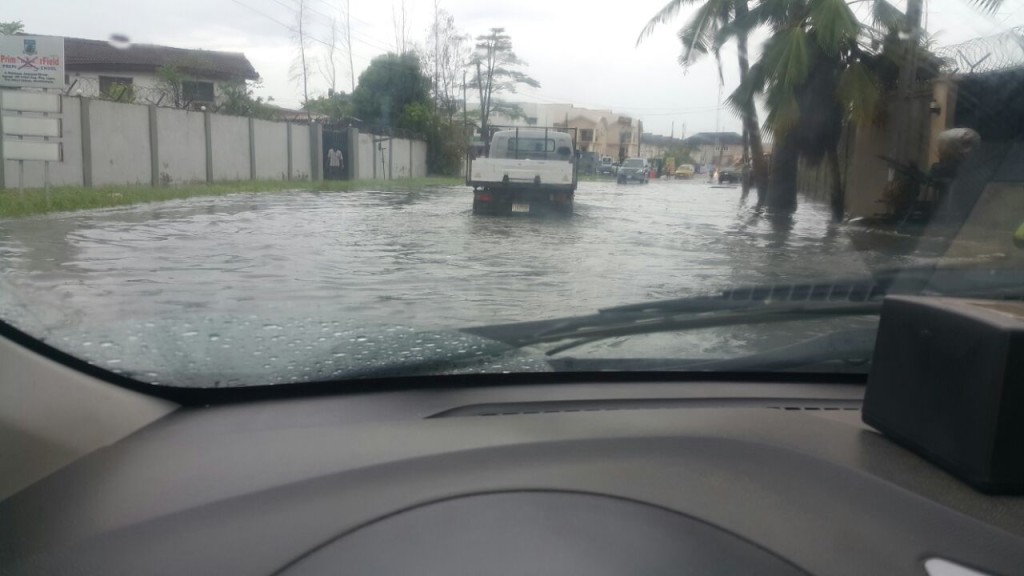 Caption – we are swimming to Ms. Jokes office
By the time the crew got to Sisi Jokes office, they were about 2 hours late and had to set up immediately and get on with the interview. I managed to speak to Sisi Joke briefly on the phone to give her some direction as to how the interview would flow, but there was no time for me to Skype in. I lay back down and just waited for the interview to be over. This was the first time I had to direct one of our episodes remotely and despite the challenges encountered, I am proud of what we all accomplished with this episode.  I thank my Lagos crew Seun Sonoiki (DP), Odera Orji (Interviewer) and Adewunmi Ajao(2nd cam).  I also thank Cy Nakpodia for her consistent support in making sure I dot my I's and cross my T's, Mariona Lloreta for reviewing and commenting on the final edit  and my Editor GB (Gerald Barclay), who  always brings my passion and vision to fruition.Believe it of not, this episode started out being -in true Nollywood fashion- Joke Silva on Indigo Tongues Part 1 and Part 2! No kidding!
Mojisola Sonoiki: Creator Indigo Tongues
Interview Date: 7th June 2016
Location: Lagos, Nigeria
Credits:
Creator & Producer: Mojisola Sonoiki
Director & DP: Seun Sonoiki
Editor: Gerald K. Barclay
B Camera: Adewunmi Ajao
Interviewer: Odera Orji
Indigo Tongues Logo: Blugge
Music Credit: Ayanbinrin
Ilu mi da?
Afrika